CT Tags-Tuts and Snag Tags
This blog was originally for my tutorials..I have stopped writting tutorials for a while, but my old tuts are still here.. This is where i will share allmy CT tags and Snags that you are welcomed to save to yourcomputer and use them in your groups.Please do not rip apart and please do not claim as your own. Thank you

About me
Hello, This is Reina
I go by the name LadyQueen
psp is my hobby and passion, I love to create.
thanks for stopping by


blog bg made by me using Jessica's Hope scrapkit http://scrapsbyjessica.blogspot.com. Powered by
Blogger
.

Labels

Blog Archive

Friday, July 11, 2014
Matthews Many Faces of Beauty
supplies needed:
paint shop pro
font Young and beautiful you can find it at dafont . com
here
template 8 by Mizteeque you can get it
here
Dees beautiful freebie Kerade kit you can get this
here
mask 53 from
here
Filters/Eye candy/gradient glow (optional)
6 tubes of choice from the same artist
I used the art of Amy Matthews which you can purchase and use with
license from
CDO
_________________________________________________________
Ok lets get started, this is a very simple tutorial
open up mizteeques template in psp, we can resize later.
shit D to duplicate, close out original.
delete the cr layer. and x out the background layer for now or you can delete
it as well.
x out all other layers besides the frame layer.
with your magic wand click inside each of the squares of the frame.
Selections/modify/expand by 12
pick your first tube and paste as a new layer, and repeat until all faces are
inside your frames, copy paper 1 as a new layer resize by 110 to make it bigger.
put under all your tube layers.
Selections/invert and hit delete on your keyboard
for all the tube layers and this paper layer. Selections/select none.
erase any part of your tubes that are in any of the other frame boxes that is
not suppose to be there.
Select your frame layer Selections/select all/float/defloat
copy paper 6 as a new layer resize by 110 you may have to move to the left
just a little . Selections/invert hit delete on your keyboard.
Delete original frame layer.
now back on the layer palette un x the word art the doodles and the flower layers.
copy and paste your flower from the kit i used the first one there are two to choice
from. paste as a new layer on your tag , duplicate 2 times for a total of 3 flowers,
place over flowers in the template. add a drop shadow V&H=2 opacity 45 blur 5
color black. do this for all the flowers.
you can delete original flower layer.
go to your doodle layer, Selections/select all/float/defloat and paste paper 6
as a new layer. resize by 115 this time. Selections/invert hit delete on keyboard.
select none. and delete original layer. Adjust/add noise uniform checked
noise 50 ,monochrome checked, add same drop shadow as before.
delete original layer. add same drop shadow as before.
go to your word art layer, paste paper 8 as a new layer,Selections/invert and
delete on your keyboard. delete original layer.

on your new word art layer, go to Adjust/add & remove noise same settings as
before. go to effects/inner bevel and add these settings to the word art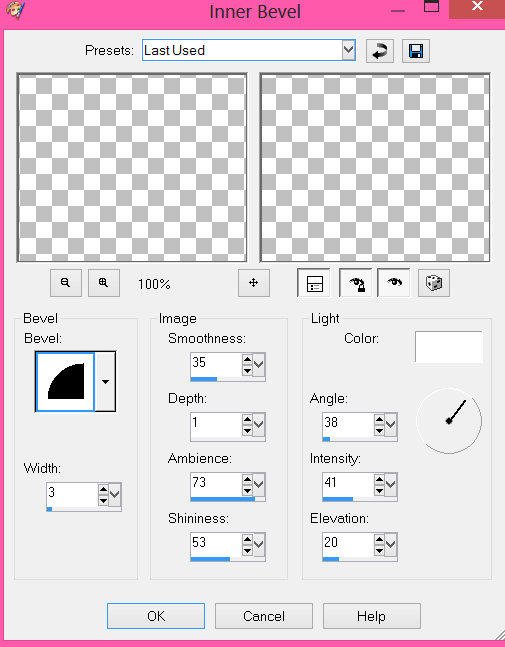 add drop shadow 2/2/45/5 color #035e5b
copy paper 7 as a new layer bring it to the very bottom resize by 125
apply your mask. I moved my mask a little to the left.
you can now add the butterflies from the kit (see my tag)
and your copyright info to your tag.
for the name type it out with color #15665d add the same noise
as before, and with the same gradient glow we did on the word art.
image/rotate free rotate 7 to the left and place on left side of tag.
merge all your layers together, i dont merge with my name because i want to
add more names later.
once this is done if you havent resized already, I always go to canvas size
resize by the size i want my tag , this time i went 655x655 and image resize
and resize my tag by 70%, all layers unchecked.
your all finished now !! you can save your tag.